Thermal gas mass flow meter
sales01@cxflowmeter.com
Working principle of
thermal gas mass flow meter
The thermal flow meter is a flow meter designed based on the principle of thermal diffusion. That is, when the fluid flows through the heating object, the heat loss of the heating object is proportional to the flow rate of the fluid. The sensors of this series of flowmeters have two standard One is used as a heat source, and the other is used to measure the fluid temperature. When the fluid flows, the temperature difference between the two is in a linear relationship with the flow rate, and then through the microelectronic control technology, this relationship Converted to a linear output of the measured flow signal.
Technical Parameters
Applicable medium: all gases compatible with stainless steel
Measuring range: 0.05 - 120m/s
Working temperature: -40°C - 510°C
Ambient temperature: -40°C - 85°C Humidity less than 90%RH
Pressure drop:
Negligible power requirements for pipe diameters greater than or equal to 3 inches:
18 - 30VDC 600mA max
180 - 230VAC 2.5W max
100VAC max 3.15W
Output signal: Linear 4-20mA proportional to mass flow and linear 4-20mA proportional to temperature
Accuracy: 1% of reading ±0.5% of full scale
Repeatability: ±0.2%F.S
Pressure resistance: 4.2MPa
Response time: ≤850ms
Shell material: die-cast aluminum, A2/A4 optional
Probe material: 316L, tantalum, titanium, etc. optional
Ball valve: 316L
Compression fitting: 316L/304
Flange: 316L/304
Alarm output: Relay normally open contact capacity 220AC/3A or 24VDC (alarm output only for flow value), can output temperature
Display: widescreen LCD display, parameters and variables can be set through the buttons on the panel (with password protection)
Protection class: IP65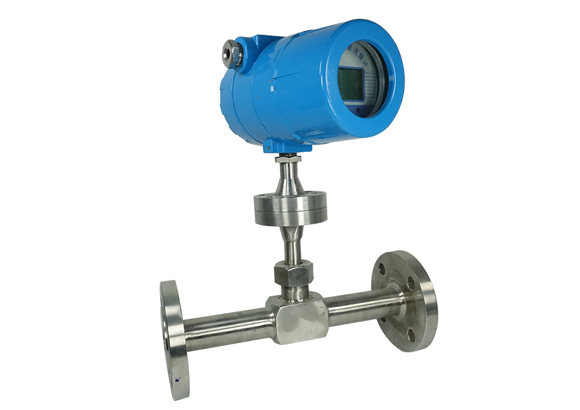 Application field
● Oxygen, nitrogen, hydrogen, chlorine and multi-component gas measurement.
● Measurement of blast furnace gas and coke oven gas.
● Flue gas measurement.
● Biogas, aeration and chlorine measurement in water treatment.
● Compressed air measurement.
● Gas flow measurement of natural gas, liquefied petroleum gas, flare gas, etc.
● Flow measurement of primary air and secondary air of blast furnace in power plant
● Flow measurement of underground ventilation or exhaust system in mine
●Air flow measurement in gas process
●Measurement of flue gas flow (velocity) from the chimney (CEMS)
● Calciner flue gas flow measurement
●Gas flow measurement in the production process of cement, cigarette and glass factories
●Gas flow measurement in solvent recovery system
●Gas flow measurement during semiconductor chip fabrication
●Carbon dioxide gas flow measurement during beer production
●Gas flow (velocity) measurement in heating ventilation and air conditioning systems
●Combustion gas flow measurement in coal-fired boilers
●Real-time detection of flow (velocity) in mine underground ventilation or exhaust system
If you want to know more parameters and quotations about
thermal flowmeters
,
please contact winny:
sales01@cxflowmeter.com
whatsapp:008618049841995